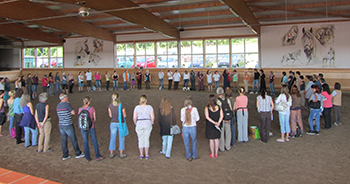 Spirit of the Horse Festival, 2013. Heinsheim, Germany
Services
The Center for Horses and Healing offers the following services:
Individual, custom designed shamanic healing and transformation sessions: on site or at your location. Call or email Sharon for more info.
Workshops: Introductory clinics, 1 day workshops, and 2 - 4 day introductory and advanced workshops at various locations--nationally and internationally.
Consultations: Sessions designed to facilitate and resolve relationship issues of all kinds…in person or long distance.
Lectures: Various lecture topics on this new paradigm and its application to our horse/human culture.
Healing Retreats: Custom designed for individual needs and circumstances.
Rituals and Ceremonies for Healing and Transformation: TBA as guided. Contact for more info.
Mentoring for spiritual and equine facilitated learning and therapy practices, and shamanic practices--nationally and internationally.
---
Workshops
2016 Workshop Schedule
Ongoing custom designed Individual Healing and Transformation sessions, with and without horses. On location or your location and designed in partnership with Sharon. Call for more info.
Shamanic Journeys and Training: Fort Collins at Center for Horses and Healing and Happy Dog Ranch, Littleton
Etheric Healing Training and Apprenticeship: Fort Collins and Denver, ongoing and by invitation
Shamanic Journey Training: Scheduled as needed and upon request
Core Soul Transformation: Individual sessions on location
March 25, 26, 27, 2016
The Call of the Horse
Embodiment of the Multi-dimensional Self--reclaiming Wholeness and Balance
July 8 - 10, 2016
Keeper of the Mysteries
Happy Dog Ranch, Littleton, Co. - "Moving thru trauma and coming out the other side--a calling and an initiation giving birth to special talents" Email for more information
August 13 & 14, 2016
Spirit of the Horse Festival
Heinsheim, Germany - Facilitating individual sessions and rituals for the festival.
August 16 & 17, 2016
Rituals and Ceremonies for Healers
Heinsheim, Germany
August 27, 2016
The Art of Being
Carpentras, Provence region, France
September 16 - 18, 2016
Run toward the Roar
"Learning to face your fears to help you thrive" Email for more information
---
Call or email for more info.